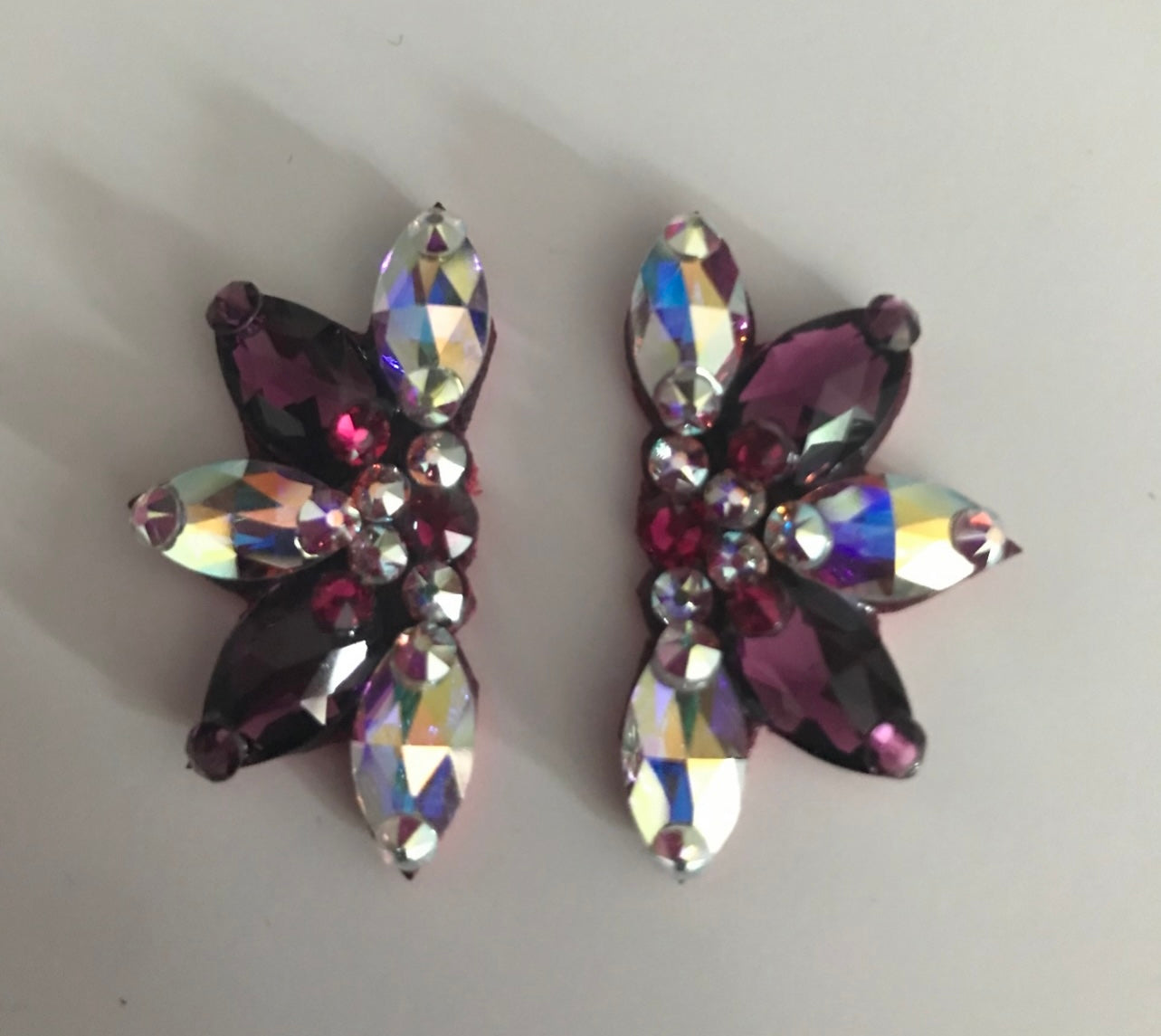 Harlequin Mollie Statement Earrings
Description
Please note: All custom made items can take 2-3 weeks for delivery.


The beautiful Mollie pierced earrings with stunning crystal stones in a mix of 2 colours.  Extremely eye catching and ultra sparkly! Wear with our Crystals for Hair for the ultimate dancefloor dazzle!
Also available with outer stones in, AB, Clear, Jet, Light Siam, Golden Shadow and a limited number of other colours.  Inner stones available in all colours. If you would like any of these colours please contact us. Nickel free. Gift Boxed. Silver tone finish. Genuine crystal.  Approximately 2cm high, 1.5cm wide.
ONCE YOU COMMIT TO A CUSTOM COLOUR COMBINATION, WE ARE NOT ABLE TO TAKE THAT ITEM BACK.  WE ARE HAPPY TO REPAIR IF NECESSARY, BUT WE DO NOT ACCEPT REFUNDS WHEN SPECIFIC COLOURS HAVE BEEN CHOSEN.
Please note: All custom made items can take 2-3 weeks for delivery.
WE SUPPLY CARE ADVICE LEAFLETS WITH EVERY PAIR OF CUSTOM EARRINGS, YOU MUST READ THIS LEAFLET BEFORE YOU UNPACK YOUR EARRINGS FROM YOUR BOX, AS WE CAN NOT BE RESPONSIBLE FOR PEOPLE NOT PAYING DUE CARE AND ATTENTION WHEN UNPACKING THEIR HAND MADE EARRINGS.  HANDMADE EARRINGS DO NOT HAVE A METAL WELD, AND NEED TO BE TREATED WITH CARE.   IN THE EVENT THAT DUE CARE AND ATTENTION IS NOT PAID WE WILL HAPPILY OFFER TO REPAIR THE EARRING ONCE YOU HAVE SENT IT BACK TO US OR ON A STAND IF WE ARE PRESENT AT A COMPETITION.
Delivery
Please note: All custom made items can take 2-3 weeks for delivery.
UK delivery £5.50 via Royal Mail 1st Class Signed For takes 2-3 days. We also offer next day delivery for £7.95 and £11.25 for a Saturday delivery. Please note: there's a 3pm cut off on next day deliveries and this is not available on custom made items.
European delivery £7.95 via Parcel Force takes 3-5 days.
Rest Of The World delivery via Parcel Force is £11.95 and takes 5-7 days.
Harlequin Mollie Statement Earrings
Delivery FAQs
Fast Delivery
For custom items, these can take 2-3 weeks. All our ready to wear jewellery is usually delivered within 5-7 days.
Worldwide Delivery
International deliveries may be subject to customs charges. View our Delivery & Returns page for more information.
Get in touch
Have questions about any of our products, and order or to discuss a new piece of custom bling? Get in touch with us at any time.
Care Advice
Removal Before Activities
Always remove your jewellery BEFORE washing hands, swimming or applying body care products. It should also be taken off before carrying out any sports activities or doing household chores. 

A Finishing Touch
Remember to reserve your jewellery as a finishing touch, AFTER using applying body care products like perfume, beauty cream, make up or hair spray. 
Avoid Chemicals
Try to protect all jewellery from sharp blows, harsh chemicals found in household cleaning materials, sunlight and extreme temperatures. 
Chlorine and related chemicals can severely discolour and damage jewellery as well as loosen stones and settings. 
Abrasives & Sprays
Ensure your jewellery does not come into prolonged contact with matches, rubber bands or any materials that contain sulphur, as well as abrasive soaps, chemicals, perfumes, hair sprays and/or dyes.